IS YOUR REALTOR BAD? WATCH FOR THESE RED FLAGS
THE SIGNS OF A BAD REALTOR ARE EASY TO SPOT ONCE YOU KNOW WHAT TO LOOK FOR.
So, you did a bad thing: you picked the first realtor you heard about without researching reviews and reputation… and so far you're less than impressed. But how do you know if this is normal or if your realtor is just bad? Did you make a bad decision or is it all par for the course in real estate?
Here are some signs of a bad realtor so you can tell whether the one you chose is not up to the task and how to find a replacement if you kick 'em to the curb.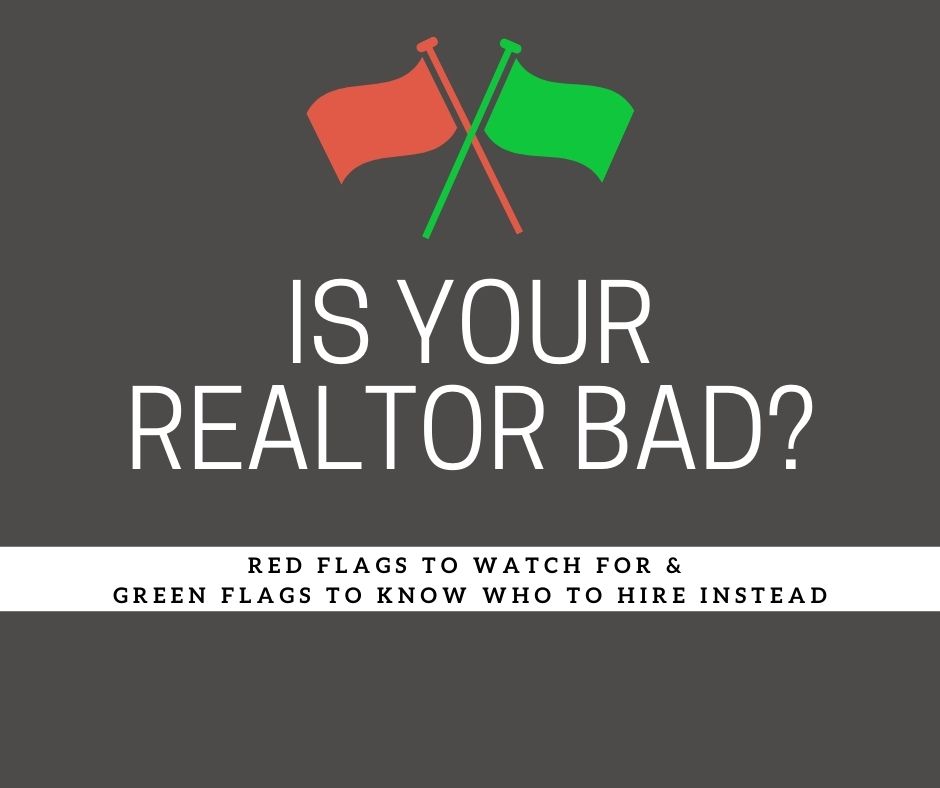 REALTOR RED FLAGS FOR BUYERS
1| Your realtor goes radio silent
If you're buying in Madison, you know it's a hot market. So, when you call, text, email, or smoke signal your realtor and don't hear back same-day, that's concerning. You'll miss out on great opportunities when you can't move fast enough.
2| They pressure you
Some red flaggers have their eyes on the prize—their commission—and nothing else. They might show you homes that don't fit your budget or needs and pressure you to buy it. Realtors should give suggestions, but every recommendation should be backed by facts that prove that's the best decision for the buyer's needs. If those facts aren't there or they don't make sense… red flag!
3| They don't offer any advice
While you don't want your realtor to pressure you, you don't want them to let you lead the home buying process. They should offer their honest opinion, be a reliable resource when you ask questions, and give advice that equips you to make smart choices.
REALTOR RED FLAGS FOR SELLERS
1| Their marketing sucks
Marketing a home for sale is a lot more than writing a spiffy Zillow listing and sticking a legible sign in the front yard. Your realtor should be posting your property on multiple websites, reaching out to their network, using social media to amplify the message, keeping their company website updated, and helping you create killer photos and visuals to showcase your property to potential buyers.
2| Poor communication
Same red flag goes for both buyers and sellers: if you can't get in touch with your agent, ditch 'em. It's that simple. A good realtor will give you regular status updates, even if nothing's happened.
3| You've been waiting … forever
As experts like Dave Ramsey say, real estate is about the bottom line: results. The easiest way to tell if your realtor sucks is if you haven't had a contact form submission, a call, or a showing in weeks. If interest is low, a good realtor will be doing everything to fix the problem … bad realtors, in contrast, let their lazy work fester.
REALTOR GREEN FLAGS: WHAT TO LOOK FOR IN A REALTOR
Based on the above, a good realtor will be an effective communicator, knowledgeable and experienced, adept at marketing, and speedy at providing results. But, there's another piece.
Home buying and selling is a personal experience—one that's tied directly to you, your family, your happiness, and your future. They should ask about your goals, learn about your family needs, know your communication style, and listen to what you say.
Want a realtor that gets you—and gets you what you want? We're standing here at the ready waving a green flag. Give us a call today at (608) 957-2683 and talk to South Central Wisconsin's best realtors.